Initiation into this program includes a thorough health and physical examination during your first visit. During this time, information collected would include history of present illnesses and current medications as this may affect your treatment goals. Labs to be reviewed include a complete blood count, comprehensive metabolic panel, fasting lipid panel, thyroid panel, hemobglobinA1C, and insulin. After a thorough review, medication will be prescribed with teaching at the next follow up appointment. Body composition analysis will be completed monthly for the initial 4 months while in this program and repeated as needed while on this program. This will be used to monitor and track water weight, subcutaneous fat, and basal metabolic rate.
SEMAGLUTIDE (SEM a GLOO tide) promotes weight loss. It may also be used to maintain weight loss. It works by decreasing appetite. Changes to diet and exercise are often combined with this medication.
TIRZEPATIDE is used along with diet and exercise to lower blood sugar levels in people with type 2 diabetes (condition in which blood sugar is too high because the body does not produce or use insulin normally). Tirzepatide is in a class of medications called glucose-dependent insulinotropic polypeptide (GIP) receptor and glucagon-like peptide-1 (GLP-1) receptor agonists. It works by increasing insulin available and decreasing glucagon (a hormone that controls the amount of glucose made by the liver) available in the body.
INDICATIONS/DOSAGE
obesity
reduction of cardiovascular mortality
type 2 diabetes mellitus
weight management
How Should I Use Semaglutide?
Weeks 1 to 4: Give 0.25 mg subcutaneously once weekly to reduce gastrointestinal (GI) symptoms associated with initial therapy. Then, follow the recommended titration schedule.
Weeks 5 through 8: 0.5 mg subcutaneously once weekly.
Weeks 9 through 12: 1 mg subcutaneously once weekly.
Weeks 13 through 16: 1.7 mg subcutaneously once weekly.
Week 17 and onward: 2.4 mg subcutaneously once weekly.
If patients do not tolerate a dose escalation, consider delaying dose escalation for 4 weeks. If patients do not tolerate the maintenance 2.4 mg/week dose, may temporarily decrease to 1.7 mg once weekly for a maximum of 4 weeks. After 4 weeks, increase to the maintenance dose of 2.4 mg once weekly. Discontinue semaglutide if the patient cannot tolerate the 2.4 mg dose.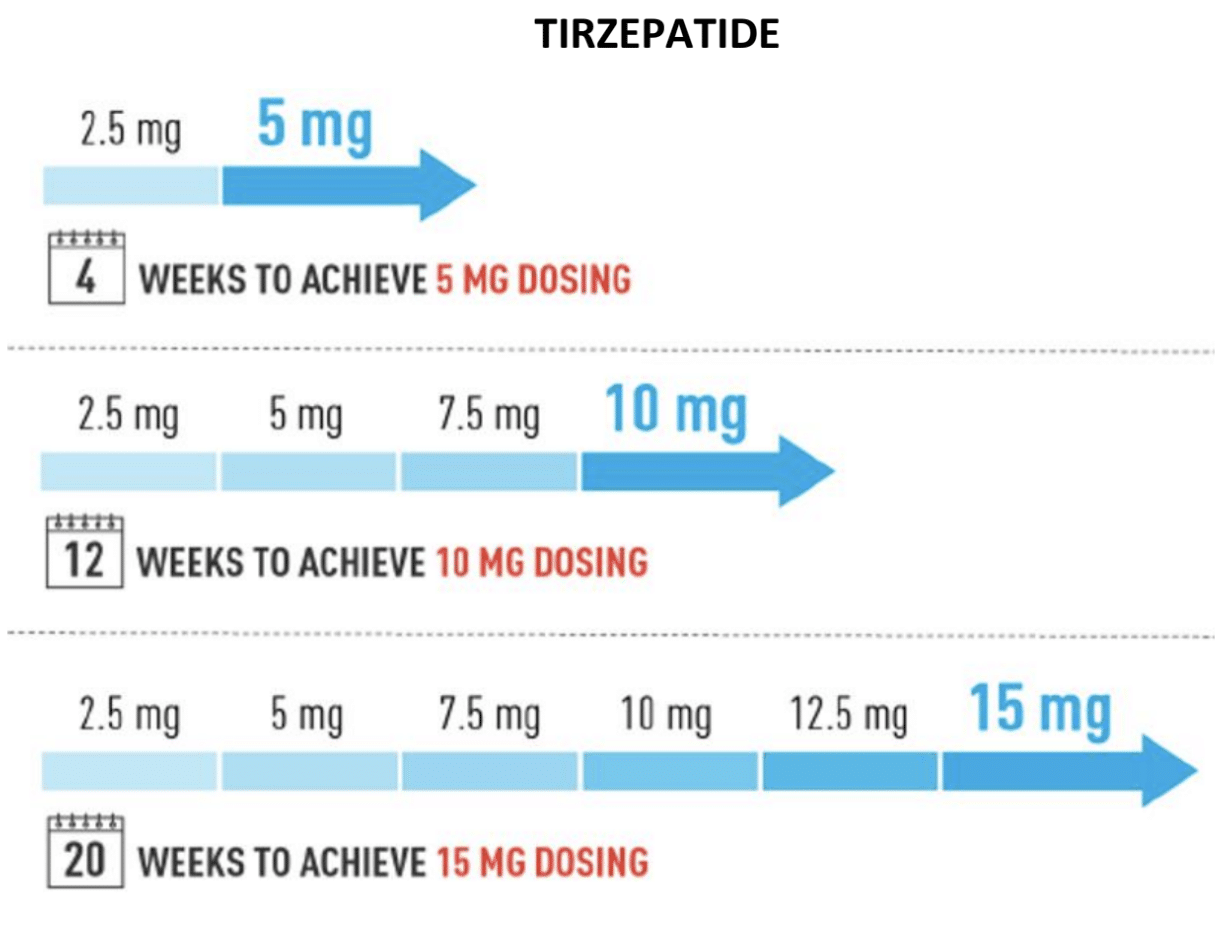 How Should I Use Tirzepatide?
Weeks 1 to 4: Give 2.5 mg subcutaneously once weekly to reduce gastrointestinal (GI) symptoms associated with initial therapy. Then, follow the recommended titration schedule.
Weeks 5 through 8: 5 mg subcutaneously once weekly.
Weeks 9 through 12: 7.5 mg subcutaneously once weekly.
Weeks 13 to 16: 10 mg subcutaneously once weekly.
Higher dosages are used with confirmed diabetes mellitus cases only or with provider approval. These medications are injected under the skin. You will be taught how to prepare and give it. Take it as directed. It is given once every week (every 7 days). Keep taking it unless your care team tells you to stop.
NOTE: It is important that you put your used needles and pens in a special sharps container. Do not put them in a trash can. If you do not have a sharps container, call your pharmacist or care team to get one. This medicine is only for you. Do not share this medicine with others.
What Side Effects May I Notice From Receiving This Medication?
Side effects that you should report to Elite Practitioner as soon as possible:
Allergic reactions—skin rash, itching, hives, swelling of the face, lips, tongue, or throat
Change in vision
Dehydration—increased thirst, dry mouth, feeling faint or lightheaded, headache, dark yellow or brown urine
Gallbladder problems—severe stomach pain, nausea, vomiting, fever
Heart palpitations—rapid, pounding, or irregular heartbeat
Kidney injury—decrease in the amount of urine, swelling of the ankles, hands, or feet
Pancreatitis—severe stomach pain that spreads to your back or gets worse after eating or when touched,
fever, nausea, vomiting
Thoughts of suicide or self-harm, worsening mood, feelings of depression
Thyroid cancer—new mass or lump in the neck, pain or trouble swallowing, trouble breathing,
hoarseness
Side effects that usually do not require medical attention (report to Elite Practitioner if they continue or are bothersome):
Diarrhea
Loss of appetite
Nausea
Stomach pain
Vomiting
Hypoglycemia
This list may not describe all possible side effects. Signs and symptoms of low blood sugar may include dizziness or lightheadedness, blurred vision, anxiety, irritability or mood changes, sweating, slurred speech, hunger, confusion or drowsiness, shakiness, weakness, headache, fast heart rate and feeling jittery. Please notify the office immediately with any uncontrolled adverse effects.
Where Should I Keep My Medication?
Refrigeration: Store in the refrigerator. Do not freeze. Keep this medication in the original container until you are ready to take it. Get rid of any unused medication after the expiration date. Keep out of the reach of children and pets.
NOTE: This sheet is a summary. It may not cover all possible information. If you have questions about this medicine, talk to your doctor, pharmacist, or health care provider.
Disclosures Before I Take This Medication?
We need to know if you have any of these conditions:
Endocrine tumors (MEN 2) or if someone in your family had these tumors
Eye disease, vision problems
Gallbladder disease
History of depression or mental health disease
History of pancreatitis
Kidney disease
Stomach or intestine problems
Suicidal thoughts, plans, or attempt; a previous suicide attempt by you or a family member
Thyroid cancer or if someone in your family had thyroid cancer
An unusual or allergic reaction to semaglutide or tirzepatide, other medications, foods, dyes, or preservatives
Pregnant or trying to get pregnant
Breast-feeding
Insulin and other medications for diabetes
This list may not describe all possible interactions. Give your health care provider a list of all the medicines, herbs, non-prescription drugs, or dietary supplements you use. Also tell them if you smoke, drink alcohol, or use illegal drugs. Some items may interact with your medicine.
If you miss a dose and the next scheduled dose is more than 3 days away, take the missed dose as soon as possible. If you miss a dose and the next scheduled dose is less than 3 days away, do not take the missed dose. Take the next dose at your regular time. Do not take double or extra doses. If you miss your dose for 2 weeks or more, take the next dose at your regular time or call your care team to talk about how to restart this medication.
What Should I Watch for While Using These Medications?
Visit your care team for regular checks on your progress. It may be some time before you see the benefit from this medication.
Drink plenty of fluids while taking this medication. Check with your care team if you have severe diarrhea, nausea, and vomiting, or if you sweat a lot. The loss of too much body fluid may make it dangerous for you to take this medication.
This medication may affect blood sugar levels. Ask your care team if changes in diet or medications are needed if you have diabetes.
If you or your family notice any changes in your behavior, such as new or worsening depression, thoughts of harming yourself, anxiety, other unusual or disturbing thoughts, or memory loss, call your care team right away. Women should inform their care team if they wish to become pregnant or think they might be pregnant. Losing weight while pregnant is not advised and may cause harm to the unborn child. Talk to your care team for more information.
Elite Practitioner recommends obtaining a personalized diet and nutrition plan specific to your individualized weight loss goal. Stronger U Nutrition offers a monthly membership plan (additional fee, $159/month) with the following resources:
Dedicated nutrition coach
Weekly accountability check-ins
Unlimited coach messaging and support
Members-only community access
Personalized nutrition and lifestyle advice
Ongoing nutrition education
Exclusive content including recipes, podcasts, videos, and more
This program is optional however eating a balanced diet with a 500-calorie deficit from measured basal metabolic rate is encouraged to experience weight loss.
Exercise can be an effective lifestyle modification for weight loss, especially when used in conjunction with dietary modifications to ensure a consistent caloric deficit over time. It is encouraged to exercise minimally 2 to 3 days a week while in this program. Obtaining a personal trainer is beneficial to targeting muscles and proper body mechanics. It is expected that you maintain physical activity while in this membership program. Non-compliance will result in poor weight loss outcomes.
If you have any questions while participating in this program, please reach out to our office.